Retail has a wide variety of different needs, and their flooring systems must be able to adapt to those needs. While for one retail client, the most important quality a floor can have might be 'curb appeal', another retail client might be most worried about corporate branding. Retailers are also always looking for the most affordable and time-saving methods of renovating.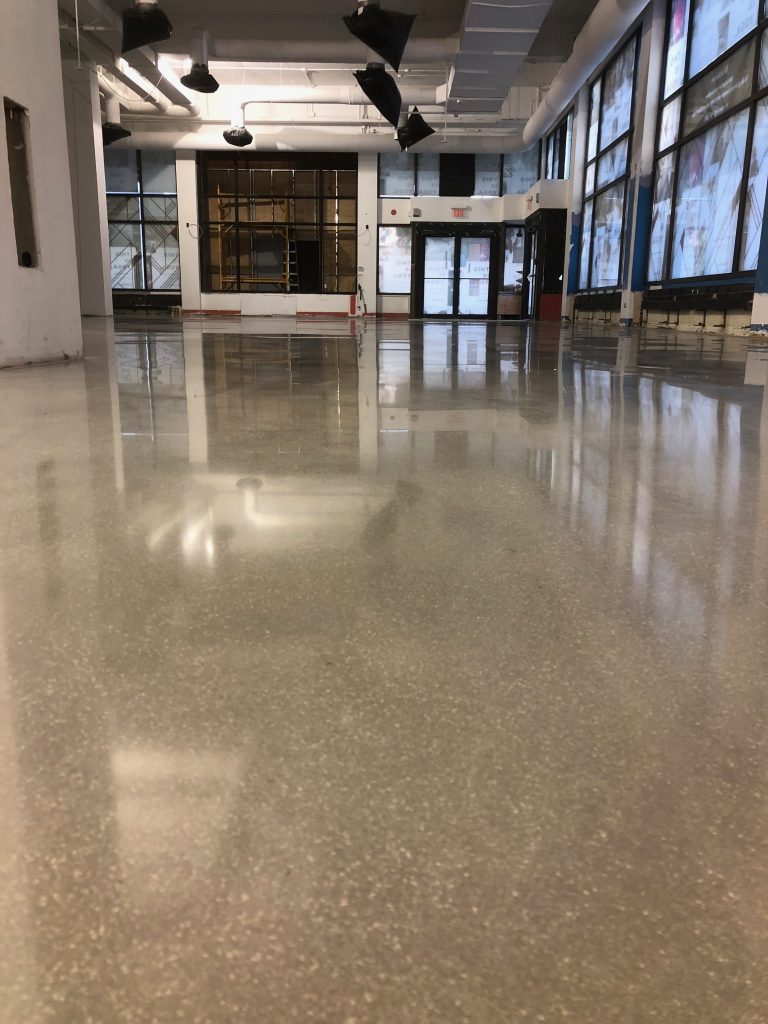 Polishable toppings, sometimes called polishable overlays, are an extremely popular method of providing a customizable and efficient solution for all kinds of retail environments. Depending on the topping being used, you can imbue flooring with resistance to stains, customized looks, such as; logos incorporated into the topping, a consistent aggregate look to a floor that may not be polishable and custom colors and designs. Not every topping will provide every quality, and that's good news – you'll only need to purchase the appropriate toppings for your needs.
Installing a flooring system, like anything in business, is mostly about money: how much the installation is going to cost, how much you're going to save over time, how durable the system will be. Polished toppings are useful on all these fronts – they can be placed over existing concrete flooring so you don't need to install a whole new system which is relatively economical. The customizability of the topping means that your floors will last longer. What's more, polished surfaces reflect more light which means you can have fewer or dimmer lights while still achieving the right level of illumination. This isn't just helpful for saving on your overhead – it can help you meet certain environmental standards, like LEED. 
Polished toppings are also an excellent way to change the aesthetic of your business. Terrazzo flooring is quite expensive but you can get a topping that emulates terrazzo at a fraction of the price. The look of polished toppings is endlessly customizable – all kinds of colours and patterns are available and a variety of aggregates can be disseminated through the topping to create a textured look. 
Retail can save a lot of time by using polishable toppings. Traditional flooring systems can take a long time to install, which could interrupt your business for longer than you'd like. While the amount of time it will take to install a polished topping can vary, it certainly takes less time than doing an entirely new flooring system, and it can often take less than a week – sometimes, only three days. 
With all of these advantages, you might wonder why polished toppings aren't more common. The simple reason is that the technologies and techniques enabling polished toppings are relatively new, and it takes highly-skilled contractors to install a polished topping without any errors. It's very important to ask for referrals and ask for the installers certifications. Poorly installed polished toppings can create a number of problems, from inconsistent surfaces to weaknesses in the flooring. Those of you who are looking for a concrete polishing Winnipeg business have trusted for years, look no further – get in touch with us for all your polished concrete and topping needs.