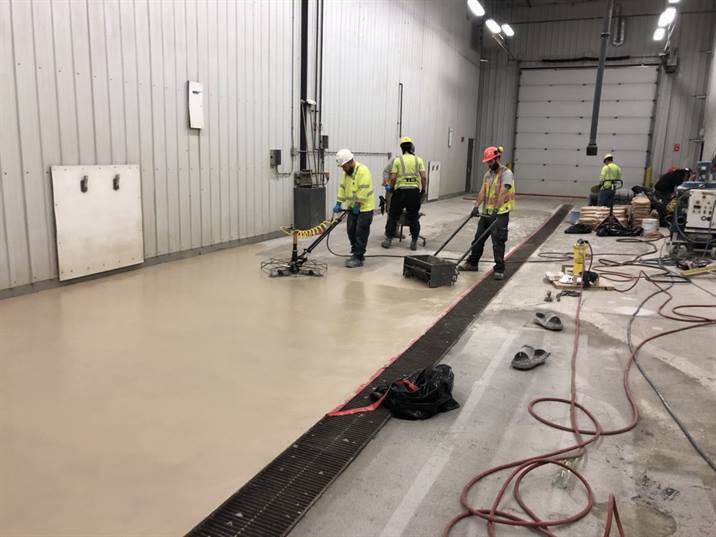 Manitoba has a storied history of agriculture; the Golden Boy himself holds wheat as a reflection of the importance of farming to our province. One important group of farmers provides us with a constant supply of a nutritious, delicious and versatile liquid – milk! The Dairy Farmers of Manitoba make sure that the milk we drink is high quality, free of antibiotics and synthetic growth hormones. The dairy industry is complex, so there's a variety of flooring needs depending on how far the milk is into being processed.
Any area where there's going to be a lot of hooves, you'll need abrasion resistant floors. You'll also want floors that aren't too slippery, lest the cattle become injured. You'll also want a floor that is easily cleaned, so you don't have to cry over spilled milk. There are a few ways we can go about this; adding slip-resistant aggregates is a good idea, and certain types of epoxy flooring might be a very good fit, as they can be both slip-resistant, abrasion resistant, and easy to clean.
When we progress down the metaphorical line, we get to where the milk is processed – turned to butter, ice cream, yogurt, cheese, or any other wide variety of milk products. Typically, when milk is being processed, you can expect a number of substances to be used – sugar, acids, and bacterial cultures are commonly seen. This means you'll need a couple of things out of your flooring, chiefly, chemical resistance. Polyurethane cement resins are great for chemical resistance, so that's a good place to start looking. You'll also want antibacterial elements; fortunately, it's possible to use antibacterial additives in the very same polyurethane systems we're talking about. There's also the possibility of custom solutions like drainage systems installed into your floors, so it's as easy as washing any spills down the drain.
What we've discussed so far is mainly the technical elements of the flooring system, but a variety of design elements can also be employed in order to make your life easier. Should there be areas of the production floor that need to be sectioned off, you can use colours in your flooring in order to design paths that lead around those areas – you can also colour code the areas, so it's immediately clear to new staff and visitors what areas are used for production, what's used for testing, and so on. You can also use coloured flooring for aesthetic flourishes that will impress visitors; you can have your logo on the floor, or just a colourful design. Choosing a colour that contrasts well with spills is a good idea, so that you can see spilled milk immediately.
Here at TCF West, we're more than just a qualified epoxy installation company in winnipeg; we're a flooring company that takes a holistic view of all your needs, and finds the perfect flooring for your industry. We create custom solutions, so no matter what your work is in the dairy industry, we have a flooring system for you.