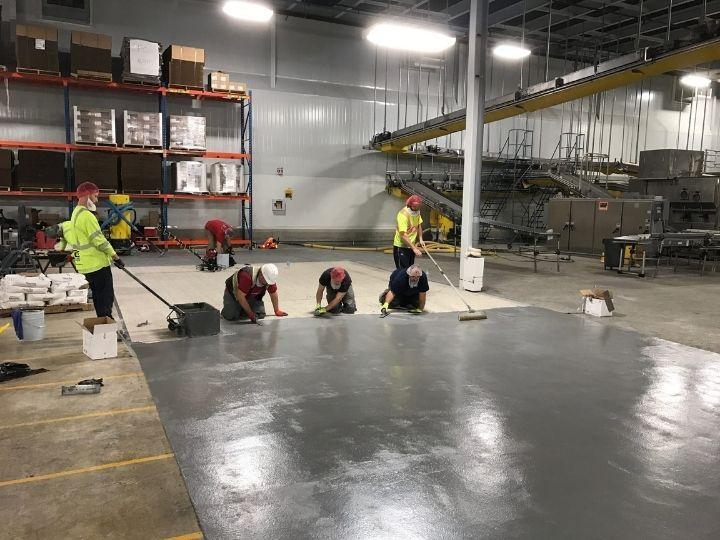 Finding the right contractor is essential to any renovation or construction project. Getting new epoxy flooring in Winnipeg can be exciting – at times, however, it can seem daunting. With a quick Google search, you might be overwhelmed by the sheer number of epoxy installers you'll find. This article will help you narrow down your search, so you can find the best contractor for your needs. 
Look at projects they've completed in the past
Your contractor should showcase epoxy floors they've installed for other clients. In the best case scenario, they'll do this on their website, which can act as a kind of portfolio for the contractor. When they do not have a project showcase on their website, ask to see examples of epoxy installations when you meet them in person.
Pictures are important, but they don't tell the whole story. Where possible, visit the locations in which the epoxy floors were installed. You can check the floors for quality. If you can, talk to the owners of the building in which the epoxy floors were installed, and ask about their experience with the epoxy installer. 
Confirm that the contractor is insured and certified
In most parts of Canada, epoxy installers must carry commercial general liability insurance. Optimally, you'll want a contractor who carries at least $5 million of liability insurance. Liability insurance covers epoxy installers both for serious problems that occur during or after installation, as well as any damage caused on-site.
Accidents happen. Finding a contractor who carries enough liability insurance is essential.
There are many different companies who manufacture epoxy and supply installers with epoxy products. The best manufacturers don't want to work with inexperienced installers. Poor installation can lead to problems with the product, and those problems may get pinned on the manufacturer.
In other words, manufacturers don't want a bad reputation, so they only work with experienced contractors. The best epoxy installers will list the manufacturers "whom they are approved with to install" – in other words, the manufacturers who are willing to supply the installer with epoxy. Here at TCF West, we are certified by Sika Canada, Rhino Flooring, Terroxy Terrazzo and General Polymers – to name a few.
Finally, ensure that your contractor is insured for worker's compensation, through an agency like the WCB (in Manitoba) or the WSIB (in Ontario). Knowing that your contractor has this coverage ensures that their business is large enough to need the coverage. This implies that they have a workforce large enough to tackle your project, and that they've been successful enough to hire a team.
Ask about their warranty
Your epoxy flooring should have a 1-year warranty for product defects and workmanship. If your contractor does not offer a 1-year warranty, don't entertain their services – you'll have no guarantee for the quality of their work. 
Find reviews, recommendations, and referrals
Whenever you're looking for a contractor – whether it's to install floors or for any other work – ask for referrals. It's imperative that you contact the contractor's former clients. Ask them about the scope of their project. Did the epoxy installer complete the work on time? How, if applicable, did the epoxy installer coordinate with other contractors? Find referrals to people who have done projects similar to yours.
In the same vein, looking at reviews and asking for recommendations from other business owners you trust is a good way to find a good contractor. These steps don't replace the vetting that we described in the other sections of this article, however.
At TCF West Concrete Finishing and Repair in Winnipeg, we offer high-quality epoxy. Our products have a 1-year warranty, we have experience with epoxy installations of all kinds, and we have all of the insurance and credentials you're looking for in a contractor. Get in touch with us today.