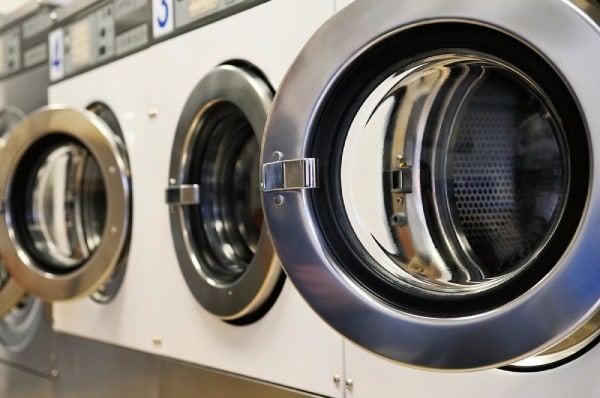 At TCF West, we specialize in epoxy flooring in Winnipeg for many different types of businesses. This floor coating is low-maintenance, long-lasting, and bonds especially well with concrete floors which makes it a reliable and aesthetically pleasing option.
This method has been a staple of many laundry rooms and can be used in a variety of facilities, such as commercial laundry services, hospitals, hotels, dry cleaners, laundromats, and more. Each environment will benefit from the strength and bacterial protection that epoxy floors can provide. This highly resilient coating is practical and improves the appearance of many commercial laundry rooms.
How It Works
Commercial spaces require durable, waterproof, and dustproof flooring as they experience the wear and tear of harsh environments. Our contractors can turn concrete bases into high gloss coatings. We would start with a moisture check to ensure there isn't any moisture that could interfere with the bonding process.  Then we would create a concrete surface profile (CSP) of your commercial laundry room floor which will allow the material to bond to the concrete.  After that, our installers will apply the coating. The number of coats and thickness will depend on the type of coating is chosen. Within 24 hours, most floors are useable for light traffic, and within seven days, the epoxy floor should be completely cured.
Why Epoxy Floors for Commercial Laundry?
In most commercial laundry rooms, sealed concrete finishes have been known to be unsuitable for the conditions of their environment; they can quickly wear down to bare concrete, which can produce an unwanted amount of concrete dust. With tile flooring, grout lines can prove difficult to sanitize and keep clean, leaving the entire floor looking dirty.
The non-porous surface of epoxy coating gives it the durability and waterproof resistance a commercial laundry room needs against water, detergents, bleach, and cleaning solvents. The thicker the epoxy floor, the more resistant it will be against damage from chemicals and heavy machinery. Unlike other flooring systems, it also allows for easier maintenance and cleaning, as well as prevents employees from slipping by adding an anti-slip component into the flooring.
We can also provide stylized epoxy, as we have plenty of decorative options suitable for commercial laundry rooms. There are many floor coatings available, such as quartz, glitter, flake, and more. During your consultation, we'll assist in helping you find what colour, pattern, or design will look better in your commercial space.
Our floor coating provides an array of benefits that work best in maintaining your facility's cleanliness, as well as providing wear resistance and protection needed in commercial laundry rooms. Floor coatings may also assist with:
Spilled laundry chemicals
High foot and cart traffic
Steam, moisture, and heat
Abrasions from rubber or steel wheels
Vibrations from heavy machinery
Heavy loads and impacts
There are specific requirements that laundry facilities must uphold when considering the type of floors they need. Lesser quality flooring can create a hazardous and unpleasant environment as they begin to break down.
Our flooring system can help with the requirements necessary for a commercial laundry room, such as:
Slip resistance
Waterproofing
Resistance against harsh chemicals
Easy to clean/sanitize
Long-lasting floor coatings